Happy New Year to All!!
Yippee, it's good to be back, have been itching to cook up some goodies lately, haha! :) And there's so many on my "to-cook-list"! Okay, one thing at a time, nothing yummy can be made if we rush, I'm sure you all know that.
Today, I decided to try cooking a dish that's me and my girls' all time favorite; Stuffed You Tiao. We almost always order this delicious dish whenever we dine at a seafood restaurant.
Looks difficult, but it's really quite an easy dish to prepare. Best when you have left over You Tiao and you don't know what to do with them.
I bought mine @ a place where the You Tiao is smaller, not the usual long ones, easier for this purpose. But feel free to cut into half if it's too long.
Most of the stuffed you tiao recipe I saw uses squid paste for the filling. I did not have any squid and thought fish and prawns will be a good substitute. :) I made this with smaller amount, enough for my family. So feel free to double it if you plan for a bigger group. I minced my fish fillets instead of buying fish paste, because I don't know what kind of fish they used in those fish paste. Try to get those fish that does not have too strong a "fishy" smell. Anyway, here's the recipe:


Ingredients for Stuffed You Tiao:
2 long or 3 short You Tiaos (pairs)
100g fresh white fish, minced till paste

100g fresh big prawns, shelled, deveined and minced (leave it chunky if you likes some texture)
1 tsp sesame oil
1 tsp salt
1 tsp sugar
1/4 tsp chicken seasoning (optional if you don't have any)
1 egg white
2 tbsp corn flour


Method:
Combine the minced fish and prawns together. Add all the rest of the ingredients until well combined and mixture is pasty.

Separate the You Tiao pairs. Using a pair of kitchen sears, snip open the You Tiao lengthwise but not all the way through. Repeat for all the You Tiaos.

Stuffed the seafood paste into the You Tiao cavity and pat it neatly as shown below:



Note: (Up to this step you can freeze the stuffed You Tiao and fry them when you want to eat them. Defrost completely in refrigerator before frying.)
Sprinkle lightly some corn flour just on the surface of the seafood paste and pat off the excess. This will yield a crispier surface and also stick the paste nicely in the You Tiao.

Heat up some frying oil in the wok

,

stablise the temperature at medium low heat.

Gently lower the Stuffed You Tiao into the oil, with paste facing down. See picture:



Fry for about 5 to 8 minutes, flip to check if the surface is light golden brown. If yes, turn all the You Tiao and fry for another 2 minutes.

Remove from oil and drain on paper towels.

Cut the You Tiaos in bite size wedges and serve warm...dig in while's it's crunchy!



A snap shot of the cooked stuffing. A keeper I must say, especially the kids love it. When you bite into one, it's crunchy on the outside and flavorful and "juicy" on the inside. :)
Serve with Mayonnaise or Ketchup, whatever your preference is.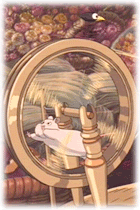 Need to burn off the extra
calories after all these goodies.....
....work it, work it!!
*phew!!*