This is really a long overdue post. I believe I made this close to a month back. But it is not surprising since last month was again a busy month for me. Actually, this is an all original HoneyBeeSweets recipe, something that was created out of inspiration from the local eateries here in Singapore; Sweet Potato Fatt Goh with Japanese Black Beans.

Well I happened to be at Bugis Junction the other day and was walking around it's food court area. There was this store that was selling fatt goh, pretty special ones mind you, but I can't remember the name of the store. :P

Anyway, I got really inspired after seeing these pretty steamed cakes and vowed to try making something similar at home. So here it is:
Frankly speaking, I cannot remember the variety of flavors that was selling at the store there. So I just came up with my own version, and it turned out great! ;)) Any interested bakers out there can try this recipe, but since this is my first time making this, I can't guarantee that you will have similar results, heehee. But should be alright. :))



Ingredients for Sweet Potato Fatt Goh with Japanese Black Beans:

(makes 12 muffin size)


200g steamed sweet potato (preferably Japanese)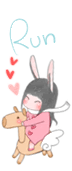 400g plain flour
225g caster sugar

3 tsp baking powder

1 tsp salt
225ml evaporated milk

2 large eggs

60ml vegetable oil

1 can Japanese black beans (you can substitute with Azuki red beans)
Method:
While the steamed sweet potato are still warm, cut into large chunks and place in the blender along with the caster sugar, eggs, corn oil and evaporated milk. Blend at medium speed till smooth.
Prepare the steamer at medium high heat.

In a mixing bowl, add flour, baking powder and salt. Pour the blended mixture into the flour mixture and mix well.
Scoop the batter into paper lined steamer cups to 3/4 full. Place about 4 to 5 black beans on top and transfer the cups into the steamer .

Steam for a good 10 to 12 minutes till the tester comes out clean. Remove from steamer and let cool on the rack before serving.

The texture of the Sweet Potato Fatt Goh is fluffy and light..much to my preference. The black beans gives a slight salty, sweet flavor to the cakes, a pretty nice combo. In case you are wondering, I got the Japanese black beans from Daiso...it comes in a small purple can. ;)
If you do try this out, let me know how it turns out for you. ;) Also note that you can replace the evaporated milk with full cream milk, the taste should not differ much. Anyway, hope you all will like this recipe. ;)) This is definitely a healthier breakfast compared to your usual stored bought fried food don't you agree? :)

Before I finish off this post, I want to share a nice news. I got a pleasant surprise when I was doing my usual blog visiting yesterday. I got 2 new awards! All thanks to dear Kristy from
My Little Space
for passing these lovely awards to me. ;) Very nice of Kristy to think of me. She's is such a versatile and dynamic cook with loads of yummy recipes. So do go visit her blog when you get the chance. Guarantee there won't be a dull moment browsing through her recipes. :)
Besides being honored in receiving these awards, I am also much motivated to be a better food blogger for my dear readers.
Thank you all for the support!
Will try my best to post more delicious and unique recipes for all to share.
Have a great week ahead all!