Have you tasted Bamboo Charcoal Bread before? If you have been to Lavender bakery store in Malaysia, you will definitely know what I am talking about. The first time I encounter this bamboo charcoal bread, I was totally intrigued! Woah, edible charcoal added into delicious baked goods which has
detoxification benefits....cool! I am sure some of you might be taken aback by the color and the thought of eating charcoal itself (don't we just use it for BBQ?!)
.
But believe me, this is the "new trend" of bakery! Apparently, Japan, Taiwan and even China has been using bamboo charcoal in their food for quite sometime now. Come to think of it, there are so many new and interesting ingredients introduced to the baked goods nowadays
...
it's hard to keep track. I guess in this modern world , not even the sky is the limit! Interested to know more about Bamboo charcoal and their benefits? Click on this link to read more about it.
:)
I studied the bamboo charcoal cheese loaf recipe (
竹炭乳酪土司)
that I have in
孟老师的100道面包. But I made some changes to it since I don't want any cheese in my loaf. and I want a bigger portion. So here is my version for my reference:
Ingredients for Bamboo Charcoal Bread Loaf:
Set A: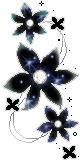 400g bread flour
55g caster sugar
1/2
tsp salt
5g instant yeast
35g milk powder
100ml of water
120ml fresh whipping cream
2.5 tsp bamboo charcoal powder


Set B:
35g unsalted butter, room temperature

Method:
In a large mixing bowl, add all ingredients in Set A and mix well till it comes together to form a soft dough.

Knead the dough till it is not sticky and add the butter in Set B and continue to knead. To test if dough is ready, stretch a small piece using the finger tips of both your hands. If you can pull the dough to almost see through texture without breaking it, it's probably done.

Place the dough in a bowl, cover with plastic wrap and let proof for at least 80 minutes.

Punch out the air in the proofed dough. Divide the dough into 3 balls and let rest for 10 mins before shaping.

Roll the balls into flat ovals and then roll it up in to swiss roll form. Place in to loaf tin and repeat with the other 3 dough balls. Let proof till it fills 90% of the tin.

Preheat the oven to

180

°C. Brush the surface with egg wash (optional).

Bake in the oven for 40minutes and remove from tin immediately after the bread is done.

Let cool before slicing.

Enjoy!



My bread loaf turned out really soft! You can see from the above picture that it was kind of "dented" when I unmould it out from the bread tin! Really have to handle with care. :P But other then that, it was a really great loaf! Fragrant and soft..just like any other bread loaf I've baked...no, no charcoal burnt smell in case you are wondering about that! ;D Wondering what is that yellowish thing on the top of the loaf? It's just the egg wash...probably should have just omitted it. ;)

Apart from baking the bread, I have also made some pandan flavored kaya to go with it! Yummy! Nothing beats home made spreads. Thanks to EP for the kaya recipe. And since there is no evident taste of the charcoal in the bread, so it taste like any other bread that you bake. So eating it with butter and kaya is a good combo! but of course you can use any spread of your preference....just like my younger daughter..she only wants peanut butter. ;P BTW, I don't eat butter like that in the picture...just that I find it nicer to put a cube on the bread slice, haha!
Also wanted to mention in this post that I tried a new recipe for dinner, Braised Pork Ribs with Taro in Claypot...very yummy! Err...perhaps my picture cannot really justify the yumminess of this dish. But believe me, it's good. ;) A simple and easy recipe to make which goes really well with steam rice, and most importantly, everyone enjoys it. ;) Interested to try it out? Click on this link for the recipe. :) Thanks Jo, for the recipe.