Believe it or not, it's less then 10 days to Christmas (and 15 days to year 2011)! Amazed how time flies...when you do a reality check sometimes. I remembered
last year this time
, I was packing my bags and leaving KL and my dear friends behind. *sob* It was a tough time for me but look where we are now after a year, all settled down and got back the rhythm of life again. It isn't easy, but I am glad how things are now. I am happy and contented, well at least when I don't think too much, I am, hahaha! For what is worth, I learn to be more independent and grew a little stronger then before. I am still thankful every single day for what I have and always looking forward to a better tomorrow. More importantly (at least with respect to this blog), I can churn up more delicious food for all to share. :)
Oops, sorry about my little "speech"

...I can get a little carried away sometimes, lol! You must be wondering when am I gonna get to the food part! Hahaha! No worries, here it is, today's menu is "Thousand layer" Butter Bread loaf
(奶油千層吐司).
Okay, might be a little exaggerating to say it has a thousand layers, but I was merely doing a direct translation. :))
I wonder if I even got 10 layers in there, hahaha!
I got this wonderful recipe from
Carol

自在生活
.
I could totally imagine how buttery good the loaf was gonna be before I even made it. :P Anything is better with butter. :) By the way, this recipe is vegetarian! No eggs! Well, that is if you skip the egg wash at the end. :)
I did some slight modification to the recipe, here it is:


Ingredients for "Thousand Layer" Butter Bread Loaf (奶油千層吐司):
270g bread flour
30g cake flour
40g caster sugar
225ml fresh milk
1/3 tsp salt
1/2 tsp instant active yeast
20g unsalted butter

For layer:
30g of salted quality butter ( I used President Butter)

Egg wash for glazing (omit if vegetarian version)

Method: (Please refer to original recipe for step by step instructions)

Mix all dough ingredients except for butter together in a large mixing bowl to form a soft dough. Place on work area to knead or mixer to do the kneading. Knead the dough till it is not sticky, about 20 minutes.

Add the unsalted butter in and continue to knead till the dough is shiny and elastic

.

To test if the dough is ready, pull a small piece off and stretching it with your fingers. If dough is very elastic and pulls to almost see through without breaking, then it's done.

Place dough in a greased bowl and cover with plastic wrap and allow to proof for at least 90 minutes to 2hrs.

Once it's doubled, punched out the air and divide the dough to 65g portions, roll round and cover to let rest for 10 minutes before shaping.

Roll the dough out into a large rectangular about 30cm by 50cm. Spread the reserved salted butter on it leaving about 1 inch on the sides.
Roll up the dough from the short side and seal all the four edges tightly.

Fold the log into half, with one half on top over the other. Then use a sharp knife, slice down leaving about 1" at the end.

Braid the dough and gently place it into a greased loaf tin. Let it proof till 80% full.

Bake in a preheated oven of 175C for 30 minutes till top is golden brown.

Remove from loaf tin immediately and let cool on rack before slicing to serve.


Once this butter loaf was out from the oven...the buttery fragrance filled the whole house! Heavenly! I was very tempted to take a bite out of it, lol! Good things come to those who wait...:D It is so soft, I can't imagine if I did slice it before it cooled down...probably moshed, hahaha!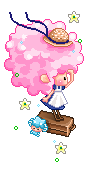 Okay, you can see for yourself the fluffiness of this bread. I teared a piece off and was delighted! It's truly buttery good. Well from the photo, you can't really tell the buttery scent and taste, but trust me...it's like a croissant loaf. :) Do try it...but bare in mind to use quality butter for this recipe, it's worth it. :))

Anyway, got to go do some packing now. Yup it's finally my turn to hit the roads and have some time off. Will be back real soon folks....you all have a great weekend now! Cheers!