If you read my blog often, you know I am a bread "addict", whether to bake or to consume, lol! So I am always on a look out for a good bread recipe. It so happened that I came across this great bread recipe book call "
Natural Breads Made Easy
" (Chinese is "天然
麵面包") at the library a week back. Boy am I hooked! I merely tried 2 of the recipes and I am completely sold and determined to own a copy of the book myself. FYI, I just bought the book a couple hours ago online, hahaha! To show you a little proof of my great found "treasure", I present to you my first attempt, Milk Tea Bread Loaf!
It might just appear to you this is just like any ordinary old plain white loaf. But no no no...this is red milk tea infused (红茶) tender soft bread loaf. :) I followed the recipe to the dot except for the part which he requires me to add tea leaves into the dough. I figured the 2 small person in my household would dislike the overly strong tea scent. So I avoided it but it still has a faint tea scent because of the red tea concentrate I added in. :)
The following recipe makes up to 2 loafs of 8"X4.5"X5" loaf tin.


Ingredients for Milk Tea Bread:
Pre-ferment Dough:
464g bread flour
265g water
7g fresh yeast (I used instant active yeast)
7g sea salt (I used table salt)
13g skim milk powder
Dissolve the yeast in water. Add bread flour, sea salt, skim milk powder and knead until soft. Cover the dough in cling wrap or a big zip log bag. Refrigerate to let it prove for 17 hours.
Note: The dough will expand in the fridge. So whatever container you put the dough in, do give some allowance for growth.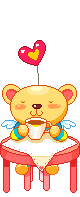 Main Dough:
199g bread flour
27g skim milk powder
7g sea salt (I used table salt)
80g sugar
80g beaten egg
80g milk tea concentrate
*
7g fresh yeast (I used instant active yeast)
66g unsalted butter, room temperature
13g ground Earl Grey tea leaves
*
Note:I used the above packet tea concentrate. But if you want to brew your own tea, here is the formula: 20g of Earl Grey tea leaves brewed in 133ml hot milk for 15 minutes. Strain and use.
Method:
Knead all ingredients of the main dough together, except the butter. Add pre-ferment dough piece by piece. Knead after each addition until soft and smooth. Add butter. Knead until stretchable consistency.

Put the dough into a big bowl. Cover with cling wrap and let it prove for 30minutes till double.
Divide the dough into 6 equal portions. Flatten each portion with your hands to drive the air out. Roll it into square shape, cover and let rest for 20 minutes before shaping.
Flatten the dough to drive the air out. Roll each out into a rectangular sheet with a rolling pin. Fold about 2cm from both sides towards the center and roll it out again. Roll the dough up like swiss roll (the width should be the same as the tin) and out them into the mould. Repeat for the rest of the dough portions. Cover with cling wrap.

Let it prove for about 45 minutes or until the dough has risen to 80 to 90% of the depth of the loaf tin. You can either cover the lid or bake it open top like mine. If open top, brush with egg wash. Bake in 175C for 30 to 35minutes.
It looks kind of plain without adding in the ground tea leaves. But the softness and deliciousness compensate for the looks, hee. :D Furthermore, if I replaced the milk tea concentrate with full cream milk, it will just be a nice milk loaf too. :)
Once the loaf was out of the oven and I had taken a few shots, my hubby and I gobbled up a few slices immediately! Freshly baked bread...who can resist that? Plus this bread's texture is really good, soft with slight chewiness and a nice crusty outside. :) You guys gotta try this, trust me. :) Besides the ingredients are simple too. :)
Okay all, got to go catch my Zzzzs. :) Hope you all have a nice relaxing weekend. Cheers!