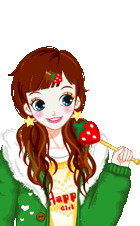 "Verde" means green in Italian/Spanish, and Pasta Verde simply translate as green pasta. And The green here comes from Popeye's favorite vegetable, spinach. :) I don't exactly remember how many times, but I do remember it's more then my fingers plus
my toes combined together. I'm talking about the number of times I've made fresh pasta at home. I believe anyone whom had tried it and tasted it before will know why go through the hassle to make it your own. It's different from your grocery bought, packaged fresh noodles. Making it at home is the real deal, it's doesn't get fresher then that, trust me. And the tender noodles tossed in your favorite sauce or gravy will just make your meal a more delightful one, guaranteed.
What you see above is the usual pasta that I cooked for my family,
Sweet Italian Sausage Pasta
. But instead of the dried pasta from a box, I made fresh spinach pasta this time. Got the recipe from one of my old favorite cookbook : Saveur Cooks Authentic Italian. You might think making fresh pasta sounds kind of hard, but I can tell you it is not, and all you need is just 3 simple ingredients. Curious? Look on to see how I did it:
Ingredients for Fresh Spinach Pasta:
(enough for 4 adults)
1 package fresh spinach, using leaves only, wash and rinse dry.
320g all purpose flour (plus more for dusting and shaping)
3 large eggs
Method:
In a large saute pan, heat it up 1 tbsp of water, add in the spinach leaves and saute for a couple minutes. It will slowly wilt down. Remove from pan and let cool. Squeeze out the excess liquid and blend it up with one of the egg.
In a large mixing bowl, add in the flour, the other 2 eggs and the spinach mixture in. Mix well until it comes together. Place it on a lightly floured work surface and knead it to form a soft dough.

Cover the dough in a moist towel and let rest for 10 minutes before shaping it. If you have a pasta maker, it'll be a good time to bring it out and set it up right now. Else a lightly floured work surface and a trusty rolling pin will do too.

Divide the dough into 8 smaller equal portions. Take a portion, lightly dust it with flour and let it pass through the pasta roller at the highest number, meaning thickest.
Gradually decrease the number knob to 1 or 2 depending the kind of pasta you want to make and let the pasta roll through a couple times on each number. It will come out into a nice smooth sheet of pasta.

Carefully placed the pasta sheets on a lightly floured baking tray and cover with moist towel. Repeat with the rest of the pasta dough portions till all has been rolled out.

At this point, get ready a pot of boiling water going at medium high heat. Then change the pasta maker setting so that it will turn the roller on for cutting it into the shape you want. This time I am making linguine. If you do not have the pasta maker, just use a pizza cutter or a knife to slice the sheets into thin strips.
Boil the pasta in the water for a few minutes, I would say 3 to 4 minutes since fresh pasta cooks really fast. Scoop it out and toss it in your favorite pasta sauce.
The pasta is really smooth and delicious. If you are not really a fan of spinach, you can simply omit the vegetables and make plain egg pasta. Reduce the flour to 300g instead. But I am always try to find ways to incorporate more greens into my kids menu, so this is one of the most effective "camouflage" method, lol!
Of course the kids knew about the vegetables been made into the pasta, but they didn't taste it, so it's all good. ;P

I had even used these fresh spinach pasta sheets to make lasagna too. Dreamy shot isn't it, lol! ;) Again, I felt that it's a much better choose over the box version. But of course, the box pasta always comes in handy when you are on the run. ;) Enough said, I do hope you all will try making fresh pasta at home, it's truly a gourmet meal you can share with you love ones. But do note that you should get your sauces ready first before making the fresh pasta. Once the pasta is made, you just have to toss the noodles in your favorite sauce, simple as that. Enjoy everyone...and oh of course Happy Teacher's Day to All Great Teachers out there. ;)